SCIENCE'S NEWEST MIRACLE DRUG IS CALLED LOVE AND LIMITS.
Here's the revolutionary new book that tells us how and why disciplining children with love and limits helps prevent the most urgent public health crises of our time.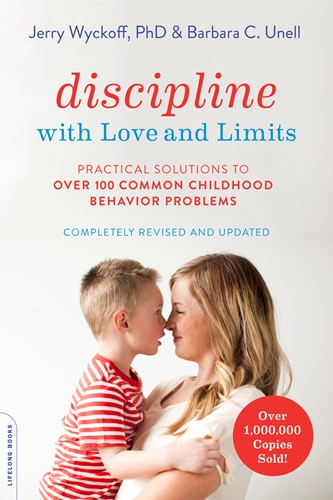 DISCIPLINE WITH LOVE AND LIMITS: Practical Solutions to Over 100 Common Childhood Behavior Problems by Jerry L. Wyckoff, PhD and Barbara C. Unell (on sale July 9, 2019; Da Capo Lifelong; $12.99; ISBN 9780738285696; 288 pages) is the revolutionary new parenting book for our times. Groundbreaking research shows that the evidence-based discipline solutions in this book can lower every child's lifetime risk of health, learning and behavior problems that are worrying all of us today: bullying, obesity, depression, diabetes, drug addiction, abuse, heart disease, cancer, suicide and anxiety, in addition to learning problems in school.
That's why healthcare providers, teachers, social workers, parent educators and more are recommending DISCIPLINE WITH LOVE AND LIMITS as the go-to guide for parents and everyone who cares for a child.
Unlike other books about behavior, the practical discipline strategies in this completely revised and updated edition lower toxic stress by giving parents and caregivers "what to do" instead of spanking or hitting a child or giving verbal insults. It includes setting limits and teaching acceptable behaviors for over 100 of the most common behavior problems that stress both parents and children.
DISCIPLINE WITH LOVE AND LIMITS is supported by The American Academy of Pediatrics' groundbreaking December 2018 Policy Statement, "Effective Discipline to Raise Healthy Children". It has been trusted by over 1 million parents worldwide to solve everyday behaviors that drive them crazy, including screen time, tantrums, bullying, talking back, bedtime and eating battles, and more.
Bottom line? This book is not only helpful, it is essential, in filling the practical "what to do" gap for parents, teachers and healthcare providers—everyone who wants and needs to know how to promote the best outcomes as they do the most important job on earth—raising a healthy child every day.
ABOUT THE AUTHORS:
Jerry L. Wyckoff, PhD, is a child psychologist who has helped parents and their children for more than 40 years and has co-authored five books on parenting with Barbara Unell.
Barbara C. Unell is a parent-educator and journalist who has co-authored over a dozen books on parenting and is a co-founder of The Raised with Love and Limits Foundation.
For more information on DISCIPLINE WITH LOVE AND LIMITS, Jerry Wyckoff or Barbara Unell, please contact Lauren Ollerhead at 212-364-1214 or lauren.ollerhead@hbgusa.com
DISCIPLINE WITH LOVE AND LIMITS
Practical Solutions to Over 100 Common Childhood Behavior Problems
Da Capo Lifelong Books, an imprint of Hachette Books | July 9, 2019
$12.99 | Paperback | 288 Pages | ISBN: 9780738285696